YEN BAI – the province with great potential
YEN BAI – the province with great potential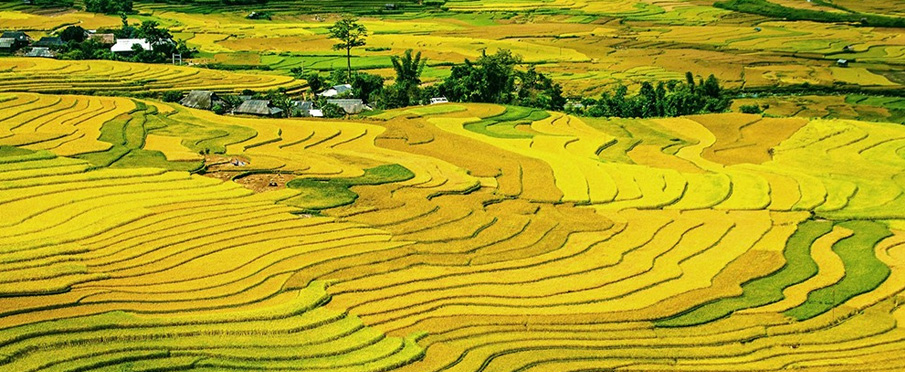 Yen Bai is an agriculturally based province with great potential.

Yen Bai (Yên Bái) shares its borders with six provinces: Ha Giang, Lao Cai, Lai Chau, Son La, Phu Tho, Tuyen Quang. The province is inhabited by approximately 750,200 people. The train runs from Hanoi to Lao Cai pass the Yen Bai town. From Lao Cai town you can continue to Sapa, Lai Chau or Bac Ha and Ha Giang. Yen Bai province is not exactly a place where there are thousands of foreign tourists , which may be an advantage.

Yen Bai province is visited mainly by Vietnamese tourists.

The history of Yen Bai is known for its French colonization, the most well known episode being the "Yen Bai mutiny". This was an uprising of Vietnamese soldiers in the French colonial army on February 10, 1930 in co-operation with civilian supporters. These supporters were members of the Viet Nam Quoc Dan Dang (Vietnamese Nationalist Party).




The region is inhabited by 30 different ethnic groups, mainly Thai people.

The Kinh people, who form the majority of the provinces population settled here together with local minority tribes. There are approximately 30 ethnic groups in this area, 4 of the groups are the Yao people. The Thai and Hmong people are the biggest ethnic groups of this province. Forestry and agriculture form the main economy of the province.

The large Thac Ba lake is easily accessible from the town of Yen Bai.

Approximately 15 km from the town of Yen Bai is the well known Thac Ba lake. Thac Ba lake is a great natural wealth of the country, and is an important source of hydroelectric power. It is also called a " Small Ha Long" with hundreds of islets and it is a convenient place for ecotourism. This lake has almost 1,300 islands and a lot of caves. Dong Cuong Festival is an important festival of the province and is held every year after the Tet festivities. You can see lots of popular games and traditions with your own eyes. The main attraction of Yen Bai, is however, the mountains and rice terraces in Mu Cang Chai.




Mountain ranges and beautiful valleys with rice terraces and fields.

Beautiful scenery and landscapes can be seen mainly at the Mu Cang Chai and Nghia Lo town. In Nghia Lo and Mu Cang Chai, you can see the second largest rice fields in northern Vietnam. In autumn / fall, the rice paddies start changing into a yellow-gold colour. The Harvest runs from September until the end of October. These fields are recognised as a national scenic site as well as the unique cultural identity of the Hmong ethnic group.

Suoi Giang – the place where hundreds of year old special tea grows.

The area is also surrounded by small villages and wooden houses of the Thai and Hmong ethnic people. The town also holds a general market where you can buy almost anything. You can visit the area near the village of Suoi Giang, where you can see the tea trees which are 100-400 of years old. Local people of the area call this tea "medicinal tea" (Zie Sua) and believe that it has curative properties . The altitude is approximately 1,500 – 2,200 meters above sea level, and there is a mild climate with an average annual temperature of 20 °C.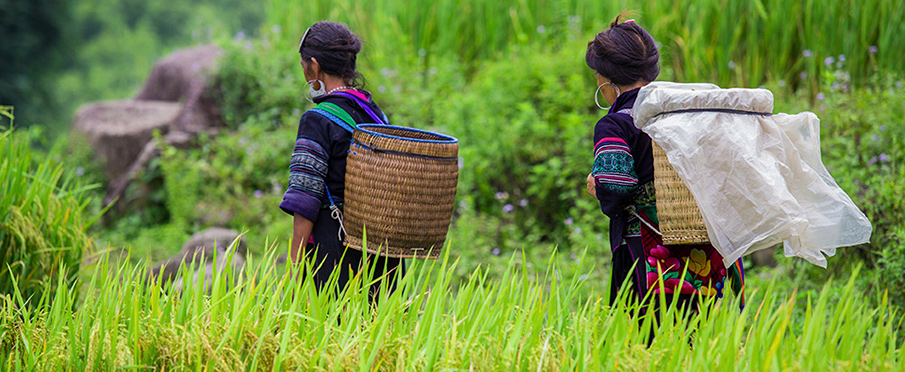 Cheap guesthouses and hotels can be found in the Mu Cang Chai area.

In Yen Bai city, Nghia Lo and Mu Cang Chai you can find a variety of cheap vietnamese guesthouses. Prices are very low, around 6 USD / person. For a short stay these are quite sufficient, in Yen Bai you will not find any luxury hotels. Check out the selection of

hotels in Yen Bai.

If you travel to the north of Vietnam (Lai Chau, Sapa), you can take the bus that leaves at 7:00am from Mu Cang Chai in the city center (this time can change, ask at the hotel).

Luc Yen district with the gem market in Yen The town.

In the northern part of Thac Ba lake is the small inconspicuous town of Yen The (Luc Yen district). At first glance it isn't any different from other towns in northern Vietnam. In this town, however a small market with precious stones and gems takes place every day in the morning (7.00 – 10.00 pm). Some stones found in this area fetch high prices, but some stones are also cheap. The whole area is well-known for mining and prospecting for these stones, for example ruby and sapphire. Yen The town is a little out of the way from Yen Bai town (about 80km, see map), but if you plan your way around, its worth a stop here.




How to get from Hanoi to Yen Bai and Nghia Lo:

From Hanoi to Yen Bai – by bus (My Dinh and Giap Bat bus station in Hanoi) to the town of Yen Bai and Nghia Lo. You can also travel by train to the town of Yen Bai (in the direction of Lao Cai) and in Yen Bai town you can take a local bus to Nghia Lo (or to Mu Cang Chai). Use a search engine of transport links where you can buy train tickets to Yen Bai town.
book and buy train e-tickets from Hanoi to Yen Bai on

vietrailways.com



How to get from Hanoi to Mu Cang Chai:

From Hanoi to Mu Cang Chai – you can travel by direct bus to Mu Cang Chai from Hanoi, however, it is a long road, about 300 km and the journey can take up to 8 hours (it might be even longer). The roads are not in good condition. You can use for example a bus of Hungthanhtravel, this bus goes from Hanoi to Lai Chau town just over Mu Cang Chai town.
If you are traveling from

Sapa

(or Lai Chau town) you can use local buses to Mu Cang Chai or Nghia Lo town. For the current timetable ask at your hotel or at the bus stations in Lai Chau or Sapa. Mu Cang Chai and Khau Pa pass are the most beautiful places with huge rice terraces and view in Yen Bai.




Weather in Yen Bai:

If you like trekking it is recommended in the months from September to November and March to May. In these months its very good weather and temperatures are from 15 to 28 °C and a night temperature from 10-18 °C. The average temperature in Yen Bai is from 18-22 °C. The peroid where the Rice is getting yellow is from 15 September to 20 October.
The coldest period in Mu Cang Chai and Nghia Lo is from December to February. There is often thick fog in the winter, but then it can be a very nice sunny day, everything changes rapidly.


➜ Current weather in Yen Bai



Accommodation in Yen Bai:

The offer on the booking portals Agoda and Booking in the province of Yen Bai is a little bit limited (September 2017). Try

Airbnb

, there are lots of typical homestays in wooden houses. But it is not a problem to stay in Mu Cang Chai but also in Nghia Lo. There are some cheap hotels, hostels but also typical homestay. In larger cities like Yen Bai, Nghia Lo or Luc Yen you can find a few hotels and hostels. In the area of the rice terraces – Mu Cang Chai, Tu Le – there are a few cheap guesthouses, but homestays of the ethnic residents.


➜ Accommodatin in Yen Bai / Mu Cang Chai



Places of Interest in Yen Bai:

• Rice terraces and fields in the rural mountain valley
• Dong Cuong palace and neighborhood
• Thac Ba Lake (10 km from Yen Bai town)
• Nghia Lo town and surrounding villages
• Muong Lo – the second largest rice field in northwestern Vietnam
• Mu Cang Chai (mountains and rice terraces)
• La Pan Tan district (rice terraces and valley)
• Phu Luong Nature Reserve and Ta Chi Nhu mountain (2979 m)
• villages with ethnic people in Mu Cang Chai (Che Cu Nha, Ze Xu Phinh…)
• Hac Y mountain with Dai Cai citadel and palace
• Suoi Giang village and old tea trees
• The Gem Market in Luc Yen town

Yen Bai / Mu Cang Chai – tourist map: