LANG SON – strategic province near China
LANG SON – strategic province near China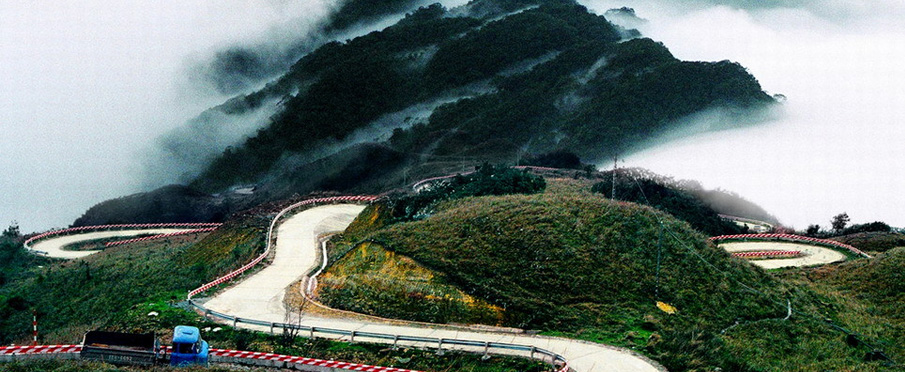 Lang Son is an important strategic point on the border with China.

Lang Son province (Lạng Sơn) with its capital of the same name is located 140 km northeast of Hanoi. You can get there from Hanoi by bus or train. However, if you take the train, you will see more of the gorgeous mountain scenery. The history of the province is associated with the Bronze Age, when a trade route passed this city, that connected China (Guangzhou) with India. The economy is 80% dependent on agriculture and forestry, and also on mineral resources. An important spice that is grown is star anise having the aromatic lanceolate leaves.

Lang Son city is suitable only as a short stopover.

Just a short distance from Lang Son, it is possible to visit Tam Thanh Pagoda. Below this point is Nhi Tanh cave. A Spring Festival is held here every year on January 15. Games and religious ceremonies attract a lot of visitors and travellers. Nhi Tanh cave is 500 m long, it is a spectacular stalactite cave and it looks like the caves of Ha Long Bay. You can go in to the cave by stairs from the pagoda. Thanh nha Mac is a hill, which also belongs to the historical west part of the town.




Lang Son has practically no visiting foreign tourists.

Above the town of Lang Son you will see the rock in the shape of a woman who holds a child – Vong Phu. According to legend, this woman is waiting for a man who went to war and waited so long she petrified to stone. Lang Son town has held Ky Lua market every 2nd and 7th day according to the lunar calendar, where you can meet many ethnic minority people of the Tay, Dao, Nung, and Hmong.

Dong Dang town is an historical monument at the border with China.

Dong Dang has a rich war history, and it is also known for its devastation. There is the Dong Dang border gate with China in Dong Dang town, also known as The Gateway of Friendship (Youyi Guan). Vietnamese and Chinese residents pass through the gate so they can sell food and items in another country.




About 30 km from the town is the fascinating Mau Son mountain.

The highest point – Mau Son mountain is 1,600 meters above sea level and attracts lots of travellers. Mau Son mountain fascinates everyone, it's one of the most beautiful places in Southeast Asia and Vietnam. You will see many stone houses from the time of French colonization in Vietnam. During the winter, this region can be covered with snow and it can be very cold. There will be a cable car build in 2017.

The old military base was built at Mau Son mountain.

A few years ago it was still closed for motorcycles, but it is now open for travellers and visitors. In this area you will see many stone villas from the period of French colonization, but some of these villas are closed for visitors. During the winter, this area may be covered with snow, and the roads can be difficult to pass. At the beginning of the 20th century a military base was built as protection from the enemy of China.



Accommodation in Lang Son (hotels)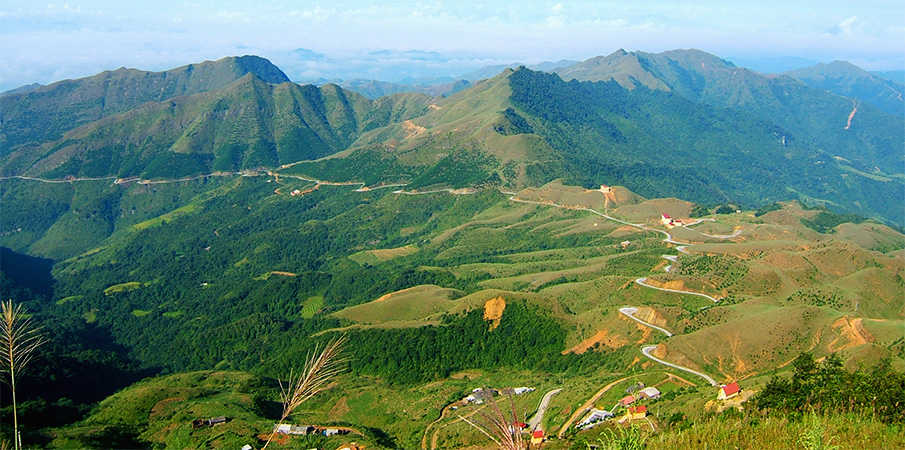 Do not forget to visit the valley and the agricultural area of Bac Son.

Another stunning place to visit is the valley of Bac Son, which is not far from Lang Son town, about 70 km. The whole valley is surrounded by mountains ranging in height from about 500-1,200 meters. The top of the mountains can be accessed from here, and you will be fascinated by the view of the whole area. The valley is covered by rice fields, flowing rivers and lakes.
The second biggest ethnic group in Vietnam – the Tay, live in Bac Son district, but also in Lang Son province. The total area of the Bac Son valley is almost 700km² . There is a very fertile land suitable for agriculture, rice and sweet potatoes or corn are grown here. Agriculture is the main source of income for local residents.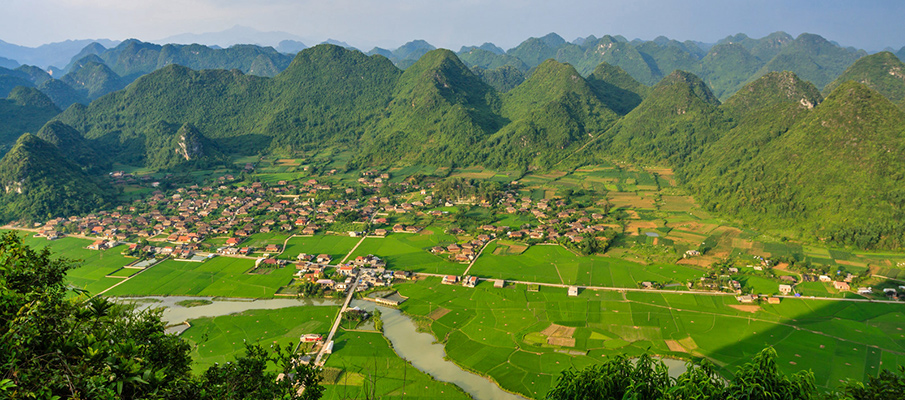 How to get from Hanoi to Lang Son town:

From Hanoi to Lang Son – there are direct buses and trains from Hanoi to Lang Son town (My Dinh and Giap Bat bus stations in Hanoi). Use a search engine of transport links vietrailways.com, here you can buy train tickets to Lang Son. It is also possible to arrive from the city of

Cao Bang

by local buses.
book and buy train e-tickets from Hanoi to Lang Son online on

vietrailways.com



Weather in Lang Son:

The weather and temperature in Lang Son is almost the same like in Hanoi. Temperatures are a bit lower.


➜ Current weather in Lang Son



Accommodation in Lang Son:

Lang Son town offers mid-priced hotels and lots of Nha Nghi guesthouses. You can find several hotels online on Agoda.


➜ Accommodation in Lang Son (hotels)



Places of Interest in Lang Son:

• Nhi Thanh cave
• Nang To Thi rock and Phu Vong
• Thành Nhà Mạc historical place
• Ky Lua market and festival
• Đông Kinh Market
• Mau Son mountain and surrounding
• Dong Dang city
• Friendship gate in Dong Dang – Youyi Guan
• Đền mẫu in Dong Dang
• Bac Son valley

Lang Son – tourist map: