NINH BINH – karst sceneries and historical sites
NINH BINH – karst sceneries and historical sites

The Karst scenery and historic first capital of Vietnam – Hoa Lu in Ninh Binh.

Ninh Binh (Ninh Bình) is the capital of the province of Ninh Binh. The city lies 100 km south of Hanoi in the Red River Delta, near the famous karst scenery of Tam Coc and Trang An. Ninh Binh belongs to the another most visited places in northern Vietnam and attracts lots of tourist every year. The population in the province of Ninh Binh forms a typical cross section of the Vietnamese people. Ninh Binh is very easy accesible from Hanoi, you can travel by train, bus or also by motorbike.

Rent a bicycle and ride in the lowland areas around Tam Coc and Trang An.

Archaeological remains found in the caves date back about 30,000 years. Part of that heritage is Hoa Lu, the ancient capital of Vietnam. Ninh Binh is a more touristy place, many tourists come here just to visit the area around the village of Tam Coc and Hoa Lu town. There is not that much to see in Ninh Binh city itself, so most sight-seeing is centred around the historical sites and the enchanting hilly landscapes surrounding them. They are breath-taking . There is a lot of accommodation in the city with very reasonable prices ranging from 5-20 USD a night but also some luxury accommodation, like bamboo houses, cottages and villas.



The most important historical places you will find near the Ninh Binh town.

The most interesting place to see is certainly the area around Hoa Lu (the capital city of Vietnam in the years 968-1009). Places you can visit include Bich Dong pagoda, Hang Mua Palace (with a magnificent view of the surroundings), Bai Dinh Buddhist Complex or Trang An and Tam Coc. In Tam Coc you can take a boat ride, it takes about 2 hours, and you'll see a lot of tourists and travellers here.

Boat rides and cycling are the main attractions in Ninh Binh.

On the way down the Ngo Dong river, you will pass three caves, the first cave Hang Ca measures 127 m, second Hang Giua 70 m and third Hang Cuoi 40 m. There are also floating shops on boats, where local people offer a variety of drinks and food . The area around the river is suitable for cycling or walking. Rent a bike and ride here in the lowlands – between the hills and the paddy fields this is a magnificent landscape.

Accommodation in Ninh Binh (hotels, homestay, ecohouses…)




Ninh Binh and its surroundings in the lowlands is suitable for biking or walking.

Bich Dong Pagoda is located 2 km north of Tam Coc, it is an important pilgrimage site for the Vietnamese. Hoa Lu is part of a defensive earthen wall and was protected and surrounded by limestone mountains. Currently the ancient citadel no longer exists, and few sights in Hoa Lu of the 10th century remain. Yet this area is definitely worth seeing, there is a lot of rice fields, limestone mountains and the scenery is amazing.

Ninh Binh is a good place for a stopover if you're traveling from North to South.


Trang An Scenic Landscape Compl
ex is a UNESCO World Heritage listed site.

Trang An Scenic Landscape Complex, which is located here, is a UNESCO World Heritage Site, registered as a natural and cultural asset. It consists of a spectacular limestone karst landscape, with the historical city of Hoa Lu and rice fields. Trang An Landscape Complex is one of the most visited places in northern Vietnam. There are 48 caves located in Trang An and it's a well-known place for diverse ecosystems.

Ninh Binh – one of the places, where the "Kong: Skull Island" (2017) was filmed.

Ninh Binh, Ha Long Bay and Yen Phu Lake in northern Vietnam, 3 interesting sites, where the famous Kong: Skull Island (premire in March 2017) was filmed. Some of these places were Van Long Nature Reserve, Trang An or Tam Coc. In Vietnam, it was a big movie hit and for many local people it was a big attraction.




Visit one of the major Vietnamese cultural festivals in Ninh Binh.

Ninh Binh also holds a lot of festivals and cultural events. For example there is Hoa Lu ancient festival (on March 6th, 7th, 8th lunar year), it is an opportunity to commemorate the King and national hero Dinh Tien Hoang and Le Dai Hanh. Another festival in Ninh Binh is Bai Dinh pagoda festival, it takes place on the 1st Tet holiday. Apart from at this time, tourists can only visit the pagoda.

Van Long Nature reserve – a place of wetlands and cultural heritage

Van Long Nature reserve is located about 20 km from the town of Ninh Binh. It's a place like Tam Coc, where you can ride a boat in a beautiful hilly area. This nature reserve is a bit less visited than Tam Coc. Van Long has about 30 caves and one of the prettiest is Ca, a 250 meters long cave on the Hoang Quyen mountain. In winter this is the home of migratory birds, flying in from the cold north.




Cuc Phuong National park is very a good stop, 30 km from the city.

Approximately 30 km west of Ninh Binh is the oldest national park of Vietnam – Cuc Phuong. There are plenty of available caves, and it is the home of wildlife and different species and plants. On the lake its possible to hire a kayak, boat or rent a bike nearby. You can get to this park on a motorbike from Ninh Binh town or directly from Hanoi. The bus departs from Giap Bat bus station in Hanoi and the journey takes about 3 hours to the town of Nho Guan (3km from the park). Admission to the park is notional – 20 000 dong. The official website of Cuc Phuong national park – Cucphuongtourism.com.

Camping, biking, hiking and nature observation in Cuc Phuong park

Accommodation and camping is available in and around the park, many offering bicycles for rent. When you buy a ticket at the entrance ask for permits for camping. Cuc Phuong park is also ideal for observing about 300 bird species, and from April to June you will see several hundred species of butterflies.

MORE PHOTOS FROM NINH BINH




A trip on a motorcycle and boat to the Perfume Pagoda (Chùa Thiên Trù).

When you stay in Ninh Binh more days, it could be a good choice a trip on a motorcycle to Perfume Pagoda (Chùa Thiên Trù). It's very important Buddhist site in a beautiful location, away from the town of Ninh Binh approximately 60 km. A lots of travelers visit this place, it is possible to buy a day trip from Hanoi, it can be purchased for around $ 25. It's a tourist place, but beautiful. However, if you are in Ninh Binh and traveling on a motorcycle it is very easy to get here.


Several interesting Buddhist monuments, but also a huge cave.

This place can be reached only by boat, you need to board in the Yến Vi harbor. For the boat ride, which is about 3.5 km long you will be charged about apx. $ 6/ person. The main attraction is the Perfume Pagoda and Động Hương Tích cave. You can make a hike (about 1 hour trip) to this cave at the highest point y or you can go by cable car (apx. $ 3). Take a look at the

photos of the Perfume Pagoda

.




How to get from Hanoi to Ninh Binh:

1. From Hanoi to Ninh Binh by train – this is the most frequented route to southern Vietnam. Train go from Hanoi Railway Station (120 Lê Duẩn). Trains continue to central and southern Vietnam. Travel by train from Hanoi to Ninh Binh takes also about 2,5 hours by train. Read all information before you buy tickets. Recomended – this is the one of the most frequented train route, recommended > book and buy your tickets online.

2. From Hanoi to Ninh Binh by bus – My Dinh, Giap Bat or Nước Ngầm bus stations. Some private companies go from various stations. Travel by bus takes about 2,5 hours. There are local and tourist comfortable buses (Hoang Long, Grouptour…). Search and buy tickets at Vietrailways.

book and buy train/bus e-tickets from Hanoi to Ninh Binh on Vietrailway.com

How to get from Hai Phong (Ha Long Bay) to Ninh Binh:

From Hai Phong to Ninh Binh by bus – buses from Niệm Nghĩa and Cầu Rào bus stations in Hai Phong. For the exact times ask at the bus stations. There is not train connection between Hai Phong and Ninh Binh.

How to get from Cat Ba Island to Ninh Binh:

From Cat Ba Island to Ninh Binh by bus – you can travel by very comfortable and luxury buses of Cat Ba Express to Ninh Binh. These buses depart from 4 Núi Ngọc, Cat Ba Island and it takes about 4,5 hours to reach Ninh Binh. You can also travel from Ninh Binh to Cat Ba Island by bus.

You can

book and buy bus tickets from Cat Ba Island to Ninh Binh

online.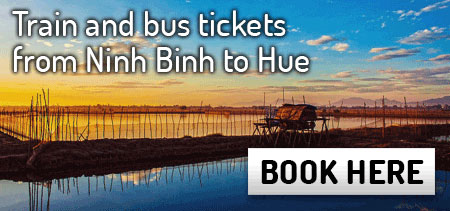 Weather in Ninh Binh:

Ninh Binh is located just 100 kilometers from Hanoi in the lowlands, and the weather is almost the same as in Hanoi. The wettest and hottest months are June, July and August. The best months to visit are September, October, November, when the temperature is around 25 °C. September- October – rice harvest season and colourful rice fields. Some spring months are also suitable. Winter months are also good (dry season) but you should know, these months may be cold and rainy.



➜ Current weather in Ninh Binh



Accommodation in Ninh Binh:

Ninh Binh has a lot of types of accommodation. Rooms, hostels, hotels, but also a very nice ecohouses are mostly middle category in low price ranges in the whole area of Trang An or Tam Coc. There also some luxury eco-resorts. It is not a problem to get a private room for one person for 10 USD a night, but also very nice expensive rooms in resorts.


➜ Accommodation in Ninh Binh (hotels, homestay, ecohouses…)



What to do in Ninh Binh:

• boat riding in karst sceneries – Trang An complex or Tam Coc
• cycling – the whole area in Ninh Binh is suitable for the light cycling in the lowland
• motorbike – trip to the Van Long Nature Reserve or Cuc Phuong National Park
• ecotourism – Ninh Binh has lots of very nice and suitable ecohouses
• you can also play golf (there are 3 golf courses in Ninh Binh area, see map)

Places of Interest in Ninh Binh:

• Trang An Landscape Complex (Cultural Heritage, boat rides, Bich Dong pagoda, Phu Dot…)
• Hoa Lu (the former capital city of Vietnam)
• Tam Coc (boat rides and cycling)
• Am Tiên Temple
• Bich Dong Pagoda
• Hang Mua (observation point)
• Thung Nham – ecotourism site
• Bai Dinh Buddhist Complex
• Thai Vi buddhist temple
• Phat Diem Cathedral
• Van Long Nature reserve
• Dich Long pagoda and cave
• Cuc Phuong National park
• 1000 year old tree in Cuc Phuong park
• Châu Sơn monastery
• a motorcycle trip and boat to the Perfume Pagoda (Chùa Thiên Trù, 60 km from Ninh Binh)

Ninh Binh – tourist map: