SAPA – fascinating scenery, Hmongs and tourists
SAPA – fascinating scenery, Hmongs and tourists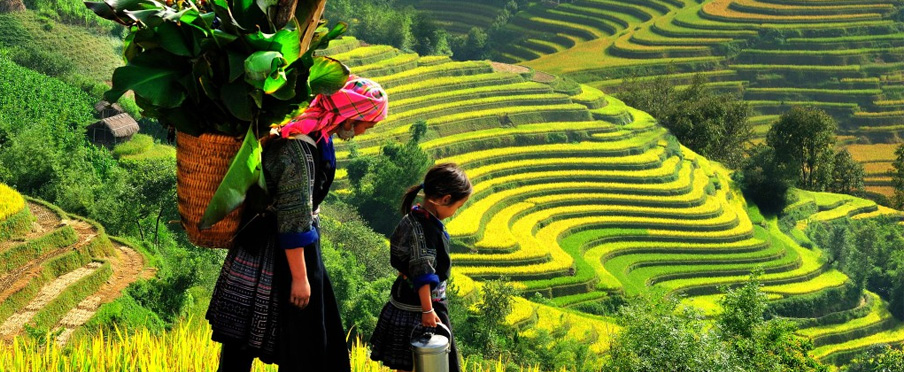 Sapa – ethnic minorities, mountains, nature, Hmongs and tourists.

Please read carefully this article if you want to still keep protected this beautiful area without the impact of mass tourism. Approximately 140,000 inhabitants live in this area. The first people to inhabit the city are largely unknown. In the whole valley they left hundreds of petroglyphs, mostly formed from circular lines. The experts believe that they date from the 15th century. People of the ethnic minority Hmong and Dao then came to the mountains. You can meet them in Sapa and the neighborhood, but also when you are hiking through the stunning mountain ranges and valleys, and the off-the-grid villages.

You can hike Fansipan, but since February 2, 2016, you can go in a cable car.

One of the most popular treks is to the highest mountain of Vietnam – Fansipan (3,143 m, Hoang Lien National Park), or through the valley of Muong Hoa. This cable car was opened on February 2, 2016. Measuring 6,282 meters, the Fansipan Sa Pa has been recognized by the Guinness Book of World Records as the world's longest three-rope cable car route. You can go to Fansipan in 15 minutes with this cable car. Ticket (up-down) costs 600,000 ($30) for adults, VND 400,000 ($20) for children up to 1.3 meters tall and children below one meter tall can travel for free. Sorry, but I think it is too much for a 30 minute ride.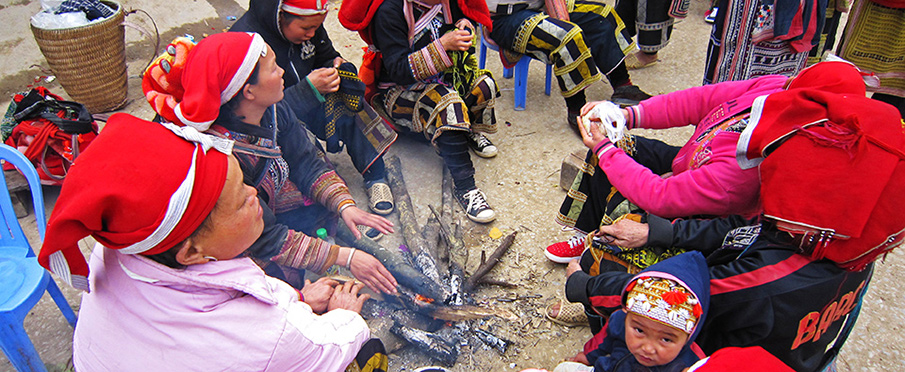 The best option for exploring this area is to rent a motorbike.

The cable car to Fansipan is not the main attraction. I recommend renting a motorcycle and visiting villages in Lao Cai province and around Sapa. For example Ta Phin, Sin Chai, Hau Thao, and Thanh Kim villages. Getting to the Tavan, Cat Cat, Lai Chau, and I Lin Ho villages you can go through the beautiful valley of Muong Hoa. It is necessary to buy a ticket, but it is not expensive, it costs 2 USD and a visit is definitely worth it. To visit the Tavan village you will need to have a ticket.

Several ethnic minority groups – mostly Hmong, Dao, Giay, Xa Pho, Tay.

Lots of women from the ethnic group Hmong and Dao offer a guiding service and homestay accommodation in the villages. In Sapa town you can meet them in the central square, talk to them and go. No agency fees. This is the best way to explore the area and try homestay accommodation and observe their culture. Women from these ethnic groups can speak English quite well, so there is no problem in agreeing on anything. And it is also important that they know the neighborhood very well. Check out the

video

when you want to see a homestay in Sapa might look like.

Accommodation in Sapa (homestay, hotels…)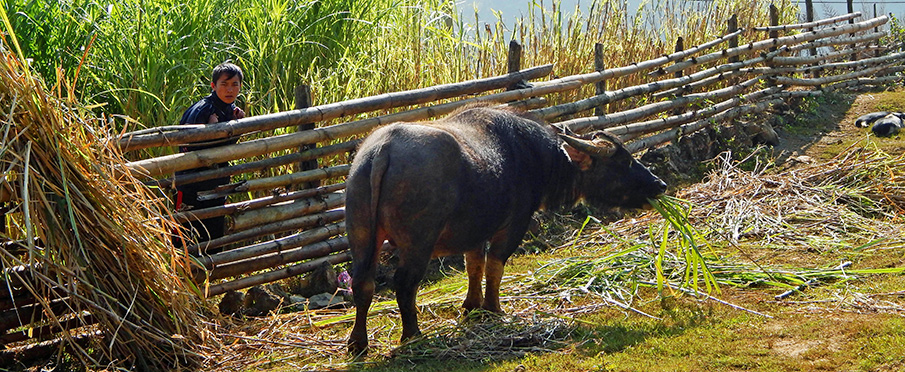 Buying the tourist trips to nearby villages in the agencies does not make sense!

For example, someone decided that when you want to go to Tavan village, you have to go with a certified guide – but you can get there more easily with a local guide. There is a lot of homestay accomodation available in these villages, with local ethnic people, and it is the greatest experience – you must try it. Some homestayes are created for the tourists and travellers, but a genuine homestay of local people is possible.




Trekking in Sapa is amazing – it is a fantastic surrounding.

I highly recommend you try a homestay with the locals, you can spend all day and night with them. You will be watching their everyday life and they will prepare very good meals for you. These people can also lead a trek into the surroundings with you. You will find great locations to create really nice photos. Rice terraces, valleys and mountains sometimes shrouded in mist and friendly ethnic minority people. Lots of homestay accommodation is in the Muong Hoa valley, but there are a lot of tourists, and some accomodation is more like a tourist cottage than a genuine local home. Sapa is an ideal place for trekking in Vietnam.




Sapa is a tourist destination frequented by foreign tourists.

Sapa is among the top 3 most visited places in northern Vietnam after Hanoi and

Ha Long Bay

. Remember it ! If you really do not like places full of tourists, it is worth considering skipping this place. However, you can go to the north of the area (Y Ty, Bat Xat), and almost no tourists come here.




Experience an authentic homestay and watch the life of ethnic people.

The prices for homestay accommodation varies – it can be for 10 – 30 USD / per person. The average price is about 10 – 15 USD / per person and includes a light trek, food, and 1 night in a village with local people. The Tourist Center in the city also offers homestay for a price of about 25 USD / person, including the trek and 1 night + food, but it is not authentic homestay accommodation.

The sunday market of Flower Hmong people in Bac Ha town.

At this market you will meet the people from ethnic group Flower Hmong, Phu La, Dao Tuyen, La Chi and Tay. They come here to buy or sell their produce of food and animals. It is necessary to take a bus or a car by a tour operator. Bac Ha is about 80 km from Sapa. There you can visit other local markets, for example Coc Ly or Can Cau. However, even in Sapa, there is a bustling market every Sunday, but this market is more commercial than other ethnic markets in northern Vietnam. When you go to Bac Ha, I recommend you stay here at least 2 nights.

Accommodation in Bac Ha and Lao Cai (hotels, homestay)




Black Hmong are the largest ethnic group in Sapa and Lao Cai.

Black Hmong – they are the largest ethnic group in Sapa, you can meet them every day in the town. In the vicinity and in the province of Lao Cai, however, there are more ethnic minorities of Vietnam, but this is the largest group of this region. Black Hmong came to northern Vietnam about 300 years ago from China. They are easily identifiable – clothes are made from hemp and indigo dye used as coloring, in shades of dark blue to black. Some Hmong people no longer wear their original clothes, but modern clothes.




A great experience is to see the Hmong community at their festivals.

A lot of women in this ethnic group earn extra money by manufacturing decorative accessories, blankets, bags or clothes to sell in Sapa. They also offer guide services and homestay in their home and villages. Men perform more physically demanding and difficult jobs, for example construction of houses in the villages. Hmong maintain a series of celebrations and festivals throughout the year. The most important for the Hmong is TET (New Year) which is celebrated almost throughout the whole month. Boys and girls play musical instruments, sing, dance and the whole community meets frequently in one place.




Experienced travelers can go to the less visited far north of Vietnam.

Far north from Sapa, about 45 km, in the town of Muong Hum a Sunday market is held (6.00-13.00), less frequented by tourists but more authentic. Here you will meet people of the ethnic minorities Giay, Dao, White Hmong and a small Ha Nhi ethnic group. Taste good local beer. Be careful with taking pictures, it is better to ask in advance and then show the photo, which is true almost everywhere in the north.

Y Ty town in the poor Bat Xat district is inhabited by the Ha Nhi ethnic people.

The town of Y Ty sees practically no foreign tourists where you can feel like being in a lonely outpost , mainly only travellers from Vietnam arrive here. It is located about 80 km from the town of Sapa, however, it is difficult to get there and the roads are in bad condition. Y Ty neighborhood is often shrouded in clouds, the whole area is surrounded by mountains that reach up to 2,700 meters above sea level, so it is also called "misty island". Y Ty is mainly inhabited by the Black Ha Nhi ethnic minority, the Ha Nhi ethnic group has only approximately 20 000 people in Vietnam (Lai Chau, Lao Cai province).

If you decide to go for this challenging trip, stay at least two days at this place. Some tour operators from Sapa offer 2-days trips. There are about 3 homestays in Y Ty and every Saturday Y Ty holds an authentic ethnic market. Foreigners who want to stay overnight in Y Ty have to pre-arrange a permit in Lao Cai and when arrive in Y Ty, have to present at the border patrol with passport and ID.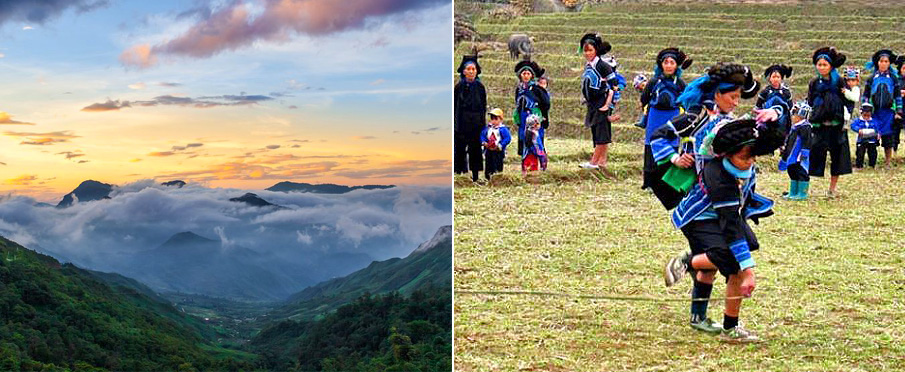 My opinion about Sapa, recommendations, what to watch:

As I wrote, Sapa is a very popular tourist destination, not only for foreign travellers but also for the Vietnamese people. I think if you go out of the town you willmore likely be satisfied.

> Some people wrote, there is a heavy traffic in Sapa.

Yes it is true in the town center, but where is this not true in Vietnam? The traffic is without any problems outside the city. Some of the bad roads in the mountains are almostin the whole of Vietnam.

> Everyone says, Hmongs are hired as puppets for money.

This is partly true. However, I disagree that absolutely everyone are puppets. Lots of Hmong in remote villages still live according to their life, customs and traditions. And you can spend the night with them, just ask and you will see for yourself, these people are living without any dependence on foreign money and foreign cultural influence.

> Agencies in Sapa say, that you will overnight with real Hmong families.

It will probably not be true, there will be fake hired Hmong people (Vietnamese who are playing at being Hmong). Although I cannot speak for all the agencies, I cannot generally recommend a trip or tour with a local agency. You can do it yourself with local ethnic people without difficulty – give it a try.

⚠️ What to avoid and not to do in Sapa:

→ do not buy tourist items from small children
→ do not give sweets to children and money
→ if you can avoid shopping in plastic goods (bags, bottles, waste disposal systems are unfortunately not in many villages)
→ do not enter to the local schools without notice
→ ask people if you can shoot them
→ do not make too much noise in rural villages (you are not on a party)




In my opinion, you will be frustrated with the constant offering of goods and services by local ethnic population in Sapa town. Get ready for it! You will also see this in some local villages.

do not only stay in the city or nearby within 5 km
if you do not wish to buy products or services – ignore the local sell
tell them politely if you do not need anyone else to follow in your path
Cat Cat and Tavan village are the most visited sites, try to go to other places aswell
buy the handcrafted products from local ethnic population (fakes are in the stores)

Let me also say that the Vietnamese government do not regulate tourism in this area. It has been reflected in what a lot of people have written. Several other hotels are being built and I think that's wrong. But I understand, the money and the money making mentality are for some the number one priority.

PHOTOS from Ta Van village
PHOTOS from Ta Phin village
PHOTOS from Hau Thao village
PHOTOS from Thanh Kim village
PHOTOS from Sapa town + surrounding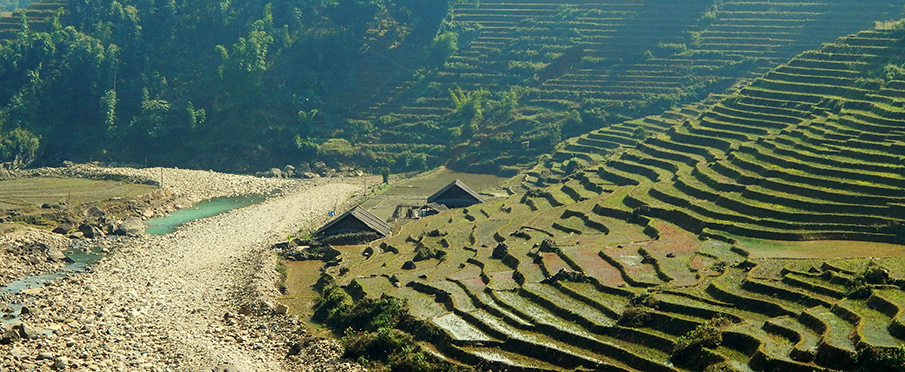 FOOD IN SAPA:

The best option for eating in Sapa is by street vendors – the tastiest and cheapest type of Vietnamese cuisine. There is a sufficient variety of stalls where you can eat typical Vietnamese dishes (meat, rice, noodles, soups,…). Sapa is not such a big city, so there's a bit more of a limited menu. Foreign imitation restaurants are overpriced and the food is not at the same level to which we are accustomed. But in Sapa you can also buy pizza or steak with fries or other foreign food. In almost every village surrounding Sapa you can find some kind of mini restaurant.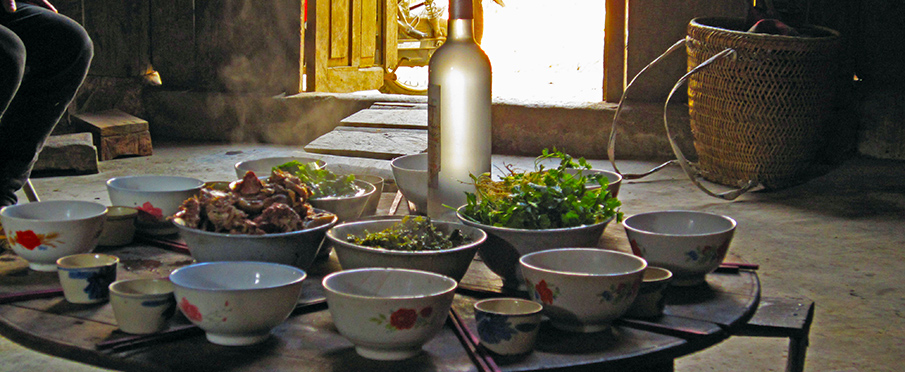 HOW TO TRAVEL FROM HANOI TO SAPA (buses, trains):

1. BUSES FROM HANOI TO SAPA

The quickest way is to use a day and night direct bus from Hanoi. The Hanoi bus stations you will find on the map, see article about Hanoi. Buses depart from Hanoi to Sapa (Lao Cai) from the My Dinh bus station, some private bus companies depart from other places. You can also use several buses of private companies. Prices range from 10-18 USD per ride to Sapa. Times, prices and possible reservations of some companies you will find below – eg. Sapaexpress, EcoSapa, Hung Thanh, Sapa Shuttlebus…

2. TRAINS FROM HANOI TO SAPA (Lao Cai town)

Many travelers go to Sapa (Lao Cai Railway Station, 25 km from Sapa) on a night train. Trains may be Vietnam Railways with the less comfort (ofic.viet.railways) or also from the private tourist companies (2,4,6 – bert cabin). With double cabs in train, but also more expensive (Orient Express, King Express, Fansipan, Sapaly…). Read the all information before you buy bus or train tickets.

book and buy bus or train e-tickets from Hanoi to Sapa online on Vietrailways.com

– this is a top travel route in northern Vietnam – recommended – book and buy your bus e-tickets online!
Vietnam Railways trains – SP1, SP3, SP7, LC3

–
hard
or
soft seat
– price for one-way ticket from 120 000 – 160 000 Viet.dongs / 1 person
–
hard bed
(6-bed cabin) or
soft bed
(4-bed cabin) – price for one-way ticket from 270 000 – 400 000 Viet.dongs / 1 person
– SP = new trains, LC3 = old train, carry-on baggage – 20 kg
– seat selection available on
Vietrailways.com
Tourist and private train operators (added to SP1 + SP3)
– Livitrans, Violette Train, Oriental Express, King Express, Sapaly, PV2, Fansipan Express, Victoria Express
– price from 700 000 – 1 200 000 Viet.dongs / 1 person – soft bed
– better quality and service, 2 or 4-bed cabins, carry-on baggage – 20 kg
– the most deluxe train – Victoria Express Train (price for ticket from 2 500 000 – 3 500 000 Viet.dongs)
For bookings with Royal Railway and private railway
companies
Victoria Express, Fanxipan Express, King Express, Orient Express, Sapaly Express, Chapa Express and Saigon Golden Train, you will be required to complete the payment before submitting your order. Your reservation will be processed and you will receive a voucher by email to
collect the physical ticket at the station before boarding the train.
For bookings with Vietnam Railways and private railway companies Livitrans Express and Violette Train,
you will be required to complete the payment before submitting your order. Your reservation will be processed and you will receive your e-ticket by email, ready to print or carry in your mobile phone or tablet and present when boarding the train.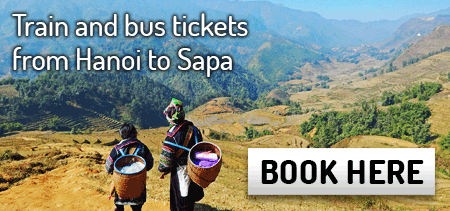 BUSES FROM LAO CAI TO SAPA:
If you're traveling from Hanoi,
the train stops in Lao Cai town
, which is 10 km from the Chinese border on the north of Vietnam. The train goes every day and many travellers and tourist go at night (20.30 – 22.00 pm), the train arrives in Lao Cai at 6.00 – 7.00 am. From Lao Cai you must take the bus or taxi, lots of tourist buses wait outside the train station.
The public bus station
is in the center of town, 300 meters from the station, see the map in this article. I recommend a
public bus
in Lao Cai town, tourist minibuses at the train station are overpriced. Here is a
time table of buses from Lao Cai to Sapa
. With the advent of the
new highway to Lao Cai town
at the end of 2014, it is possible that the number of train travelers will reduce.
Every year the thousands of tourists come to Sapa, but
this area retains its original natural character.

Weather in Sapa:

The coldest period in Sapa is from December to February
, so choose carefully accomodation with heating. It is very cold here and sometimes snow falls in the winter. There is often thick
fog in the winter
, but this can become a very nice sunny day, everything can change rapidly.
The main tourist season
in Sapa is from September to April. If you like trekking it is recommended in the months from September to November and March to May. In these months its very good weather and temperatures are from 15 to 28 °C and at night from 10-18 °C. Read the article – the
weather
in northern Vietnam.
➜ Current weather in Sapa

Accommodation in Sapa:
Lots of hotels have standard and
even very good quality and service
. In the main season (September to April) capacity may be more limited, and it is recommended to book your accomodation online. Prices for hotel accommodation is slightly higher compared to Hanoi, but still low. A single room can cost
10-15 USD
, a double room 10 USD / perperson. Prices for shared housing is almost the same as in Hanoi,
5-10 USD
/ per person.
➜ Accommodation in Sapa (homestay, hotels…)
Places of Interest in Sapa:
• trekking or

riding a motorcycle

to villages in the area
(Tavan, Cat Cat, Sin Chai, Ta Phin, Thanh Kim, Ban Ho, Hau Thao, Lao Chai)
• Silver waterfall and Love waterfall
• hike to the highest peak of Vietnam – Fansipan
(Hoang Lien National Park)
• Cable car to Fansipan mountain
• Muong Hoa valley
• Seo My Ty village and hydro-power dam
• Tram Ton Pass
(fascinating sceneries)
• Market in Sapa
• Ham Rong mountain
(Dragon mountain)
• Cultural performances in the Cat Cat village
• Homestay at the local ethnic minorities
• Sunday market in Bac Ha
(take a bus or a tour operator, Bac Ha is approx. 80 km)
• Sunday market in Muong Hun
• Y Ty district with the Black Ha Nhi ethnic minority
• Bạch Mộc Lương Tử
(the fourth highest mountain in Vietnam, 3046 m)
Sapa – tourist map: