MAPS → northern and southern Vietnam + sites
North

/

South

/

Google map

/

Province map

/

Railway map

/

Airport map

/

Bus map
Maps of northern, central, southern Vietnam, airports and railway for your use.
When traveling in northern Vietnam
you will definitely need a map
, either in printed or electronic form. Most travelers use a mobile version of
Google Maps with GPS.
For each area in the "Places of interest" , if you look below the article you can find a map of the places described in Google Maps.
However, in some remote areas of northern Vietnam
mobile internet may not work
or a cell phone application may not run. After that you can only really use a printed map. Most Vietnamese locals do not use maps and cannot read them. It's best to ask people, but you could of course show them this map and see what reaction you get.
- The articles in the section

14 of the most interesting places of the northern Vietnam

have a Google detailed map with photos below the article.
Map of northern Vietnam – click on the image below
(this is only a simple map, some of the smaller roads are not marked!)
Map of central and southern Vietnam – click on the image below
Central and southern Vietnam. Possible stopovers and interesting cities.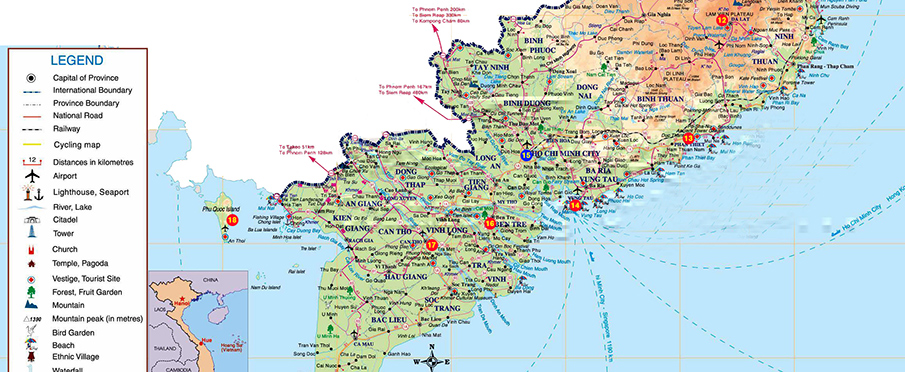 Google maps in Vietnam
• do not rely only on the mobile version of Google Maps
• in remote areas may not run mobile internet
> How to download an offline version of the maps of the area?
(larger data capacity, for example Hanoi and surroundings – 250 Mb)
• some routes are not in the map
, mainly smaller roads and paths
• some roads are intricately drivable roads
• Google maps may not be actualized
(Vietnam is rapidly evolving and changing)
• I used only Google maps in Vietnam mostly without any problems
The most important cities in map of northern Vietnam

Northern Vietnam on Google map. Possible stopovers and big cities on the north. Interesting places.

Map of central and southern Vietnam – cities and stopovers
Lots of travelers going also into central and southern Vietnam. Although this site is focused mainly on northern Vietnam, check this map of important cities and your possible stops in central and southern Vietnam.

Province map of Vietnam
Map of the provinces in Vietnam. Click on the picture below for high resolution.

Vietnam railway map
Vietnamese railway map and train routes (December 2017) + railway map of Thailand
. Click on the picture below.
Read this, if you want to buy your train/bus/ferry tickets in Vietnam+ routes >
Where to buy train tickets in Vietnam?
Map of the international and domestic airports in Vietnam
Red
– domestic airports,
Blue
– international airports,
Green
– these airports should be open in the near future.
Looking for flight in Vietnam or to the neighbouring country?
(just type your place of departure and place of arrival and book your flight online)
BusMap – map of bus lines in Hanoi and Ho Chi Minh City
If you have an Android or iOS phone, you can download the application for free – BusMap. 1 application is for Hanoi and 1 application is for Ho Chi Minh City. Easy to use, in English language, navigation. Application runs online and offline. Oficial website (You can search in Ho Chi Minh City online):
Busmap.vn
> BusMap (Hanoi) >

Android
(iOS version is in development)
> BusMap (Ho Chi Minh City) >

Android

+

iOs

+

Windows



Hanoi – Bus map

Many public buses operate in Hanoi and there is a
huge network of bus lines
going to anywhere in the city. Ticket will be handed out by a collector and you have to pay him in cash. If you plan to travel by bus, make sure you carry smaller bills. However, this network is complicated, confusing, and not very comfortable when traffic is heavy.
Click on the picture below for high resolution.
I think it is better to use the
BusMap mobile application,
it is up-to-date and very easy to use, information below.
Which mobile applications with maps of Vietnam to use?

1. GOOGLE MAPS
– Google application for free – maps of the world
– necessary application to display a map when traveling in Vietnam
– in remote mountainous areas in Vietnam may not be functional mobile internet
– you can download your maps and use them offline,
how to download Google Maps for offline using
– application is available for
Android
and
iOS

2. MAPS.ME
– applications with maps of cities, states, attractions, restaurants, hotels, hostels …
– working offline (offline version of map of Vietnam has only 60 Mb)
– some smaller cities and paths in Vietnam are not complete
– application is available for
Android
and
iOS
3. BUS MAP (Hanoi+Ho Chi Minh City)
– application for free –
bus lines and bus map
in Hanoi and Ho Chi Minh City
– you will see the map with numbers and routes of buses
– searching route from this station to another station
– 1 application is for Hanoi and 1 application is for Ho Chi Minh City
– BusMap Hanoi >

Android


– BusMap Ho Chi Minh City >

Android

+

iOs

+

Windows
– website:
Busmap.vn
Maps of the travel itineraries
Maps of the national parks in Vietnam