Calling + Internet in Vietnam – Useful information
Calling + Internet in Vietnam – Useful information
Calls in Vietnam

|

Mobile operators

|

Prepaid SIM card

|

Buy SIM card

|

Registration

|

Internet



You can call and use the Internet in Vietnam just as well as at home.
Vietnam is a rapidly expanding and modernizing country. Vietnam has a
wide network coverage for mobile calls.
You can call and use 3G mobile internet almost anywhere and anytime. The only exception is remote places in the mountains where you can have a signal problem.
Any hotel or guesthouse and restaurant in Vietnam offers Wifi Internet access. Mobile operators, of course, also offer
very good 3G mobile internet.
You can use 3G mobile internet when traveling (Google Maps, E-mail, surfing). Here is a selection of
the best mobile travel applications

.

How do I make calls whilst in Vietnam?
The best option for tourists and travellers is to
buy a Vietnamese prepaid sim card.
Buy a sim card, registrate and you can call. Mobile operators offer a variety of tourist packages in different price categories. These prepaid sim cards make calling in Vietnam
very cheap.
Tourist Prepaid SIM cards contain data for mobile internet (50 – 3000 Mb, valid for 1 month). Of course you can also use the internet and call with
Skype or Viber.

Mobile numbers in Vietnam have the following codes:
09y xxx-xxxx, 01yy xxx-xxxx
(09y and 01yy – are
telephone prefix of Vietnamese operators
).
Mobile operators in Vietnam – Viettel, Vinaphone, Mobifone, Vietnamobile.

You can buy prepaid sim cards almost anywhere where you see these logos:
Viettel prepaid SIM card (tourist package):

The Viettel SIM card should definately be your first choice if you are goingto remote areas in northern Vietnam.
Prices for call and mobile data access are roughly the same as the others.
• price is 50,000 – 250,000 Vietnamese dongs, depending on how big a data package you choose (from 50 to 3000 Mb)
• cheapest option, a large operator coverage in Vietnam
• price of a 1 minute local call is from 1, 000 dong, SMS for 250 dong
• price of a 1 minute for call to a foreign country is about 3, 000 dong, SMS for 2, 500 dong
• bundle is charged with 30, 000 dong and is valid for one month
• to check your call balance type *101#
• send an SMS "3G ON" to the number 161 for activating the 3G Internet
• default PIN code is 1111
• Viettel sends a lot of advertising SMS messages
Where to buy SIM card in Vietnam + registration:

You can buy SIM cards almost everywhere
– at the airports, in stores, in the big cities, in the small towns, in Hanoi almost everywhere… To buy a prepaid SIM card, you have to officially
show your ID or passport
and need to be registered first, before the SIM card can be activated. But in practice, this was not really much enforced
before November 2016.
Then the government
shut down 12 million falsely registered SIM cards (more information).
The rules are now more strictly enforced, that you bring your passport and register to activate your SIM card in an operator's store.
Official registration can done in the major stores of the operators
Small independent street shops
can't activate them for you and they still sell a SIM on somebody else's identity to you. With these vendors make sure that they activate it for you or show where and how to do it.
Official registration can done in the major stores
of the operators or the seller will direct you to a registration point, where you'll need to show your passport. Don't leave the store without instructions, how to activate or with a SIM which is already activated. You can check whether your SIM has been registered by texting 'TTTB' to 1414 on all major operators. If registered, the response will include the name, birthdate, and ID number (Vietnam ID or foreign passport) of the registered individual.
RECOMMENDED from 2017, buy and register your Sim card at the major store of mobile operator.

A traveller visiting the country for only a few days
may do fine without registration. You only
risk that your SIM will be shut off
anytime without prior warning. This has been reported after 4 days already. To avoid losing your credit and allowances in this case, you'll need to go to a
registration point in an official store
and re-register your SIM on your name by showing your passport as required by law. If you want to
call in Vietnam
withou any problems – go the official store.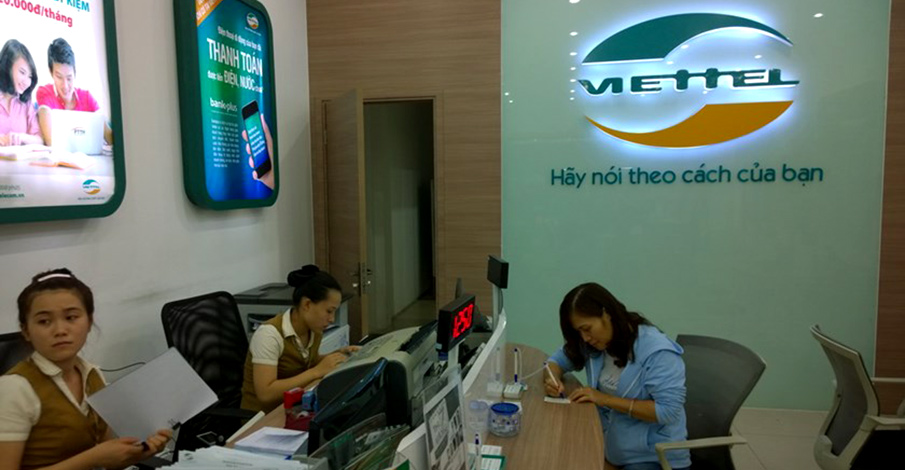 For more information about the Vietnam mobile operators and SIM cards, visit this link:

Mobile operators in Vietnam and data packages

I had a
Viettel SIM card with 3GB data package
for 3G internet for 1 month and I paid 250,000 dong. It was enough for a whole month. I made some local calls, and almost every day I used Google Maps, and email and occasional surfing the internet. In some remote mountainous areas there may not be a signal, but I only had a problem once on the route between Lai Chau and Son La city.
In some areas you may have a problem with roaming.
For more information, you need to contact your mobile operator.

Viettel official stores in –

Hanoi

and

Ho Chi Minh City


Vinaphone official stores in –

Hanoi

and Ho Chi Minh City

How do I call from Vietnam to foreign countries?
One option is to use a Vietnam prepaid sim card, it's cheap, about 10 US cents per minute (it can change). The second and better option is to use internet access
in a hotel or restaurant and use Skype or Viber
for smartphones. These mobile apps and software work fine in Vietnam.
Internet in Vietnam:
• getting and using the internet in Vietnam will not give you any big problems
• almost all guesthouses (Nha Nghi), better restaurants and hotels have Wifi
• if you can, avoid a payment transactions in wifi coffees (keyloggers should be installed)
• speed is not high sometimes, but it is enough for everyday using of internet
• the fastest Wifi network I registred in northern Vietnam was around 4MB/download (approx 3Mb)
• it is sufficient for calling with Skype or Viber
• in remote areas, villages in restaurants or bistros there often is no internet connection
Facebook and Twitter in Vietnam
Facebook in Vietnam
is currently a very popular social network. It can be said that the Vietnamese love Facebook. There are about 65 millions active users of Facebook in 2017.
The Vietnamese government is trying to block Facebook,
and you may have a problem with Twitter. However, it's a bit of a clumsy effort and pointless excercise for the government as there is a really simple way to unblock Facebook.
How to acces blocked Facebook in Vietnam?
As mentioned Its a bit of a joke, but its just changing the
DNS server address. DNS server IP address will change to 8.8.8.8 and 8.8.4.4
and restarts the internet. That's all.
More detailed procedure
for those who do not know where to do this is here:
How to acces blocked Facebook in Vietnam?